There are so many benefits of practicing yoga with your baby! From learning healthy habits early on to better sleep and digestion, babies get many positive effects from yoga. Yoga also helps caregivers bond with their baby, and relieves aches and pains from all of the lifting and bending we do while taking care of our little ones. Here are seven benefits of practicing yoga with your baby:
1. Modeling
Moms, dads, and other caregivers who exercise and regularly practice self-care are modeling a healthy lifestyle for their babies. Research shows that both prenatal and postpartum exercise is linked to short- and long-term positive outcomes for babies—even into adulthood!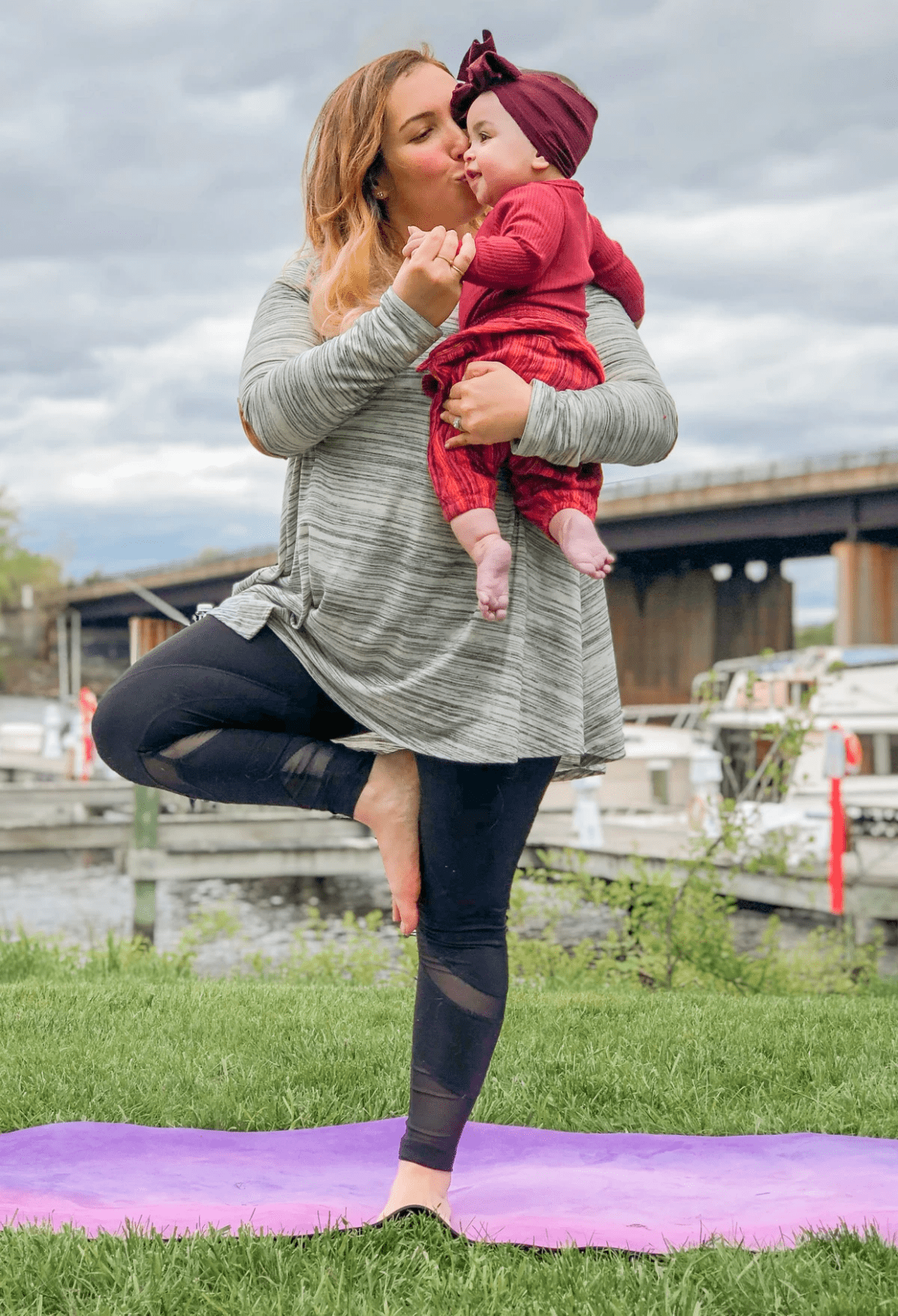 2. Healthy Habits
Starting your baby on a regular dose of yoga can lead to so many benefits later on. Healthy habits learned early in life promote healthy habits as adults. Studies have shown that people who practice yoga have better stress management, mental and emotional health, nutrition, sleep, and balance.
3. Physiological Development
Babies are born flexible, and yoga helps them maintain that flexibility. Tactile stimulation (such as helping your baby stretch) has been shown to contribute to healthy development of the brain and nervous system. Stretches and poses also support baby's gross and fine motor development. Because baby-and-me yoga assists in these skills, it can reduce frustration in babies that is sometimes caused by the transition from one developmental stage to another.
4. Bonding With Your Baby
It can sometimes be hard to figure out what you should be doing with a brand new baby, and new parents often question if they are doing "enough" or whether they're introducing the right kind of activities. Yoga provides both physical and social learning for you and your little one; positive touch and playing, conversing, and making eye contact all strengthen the bond between you and baby. There is even a therapeutic effect of touch—in the first year of life, touch is considered essential in brain and emotional development.
5. Your Healing & Recovery
Yoga can provide abdominal and pelvic floor healing from pregnancy and birth, and can relieve symptoms from birth trauma for both mom and baby. If you are a non-carrying or adoptive parent or other caregiver (nannies, take note!), yoga provides healing from the physical and emotional stress of taking care of a new baby. Yoga can reverse damage done from lifting, bending over, and even sleep deprivation. In addition to the physical benefits, yoga has been proven to decrease anxiety and depression in both pregnant women and new mothers. One study showed that 78% of women suffering from postpartum anxiety and depression had a significant decrease in their symptoms when yoga was added to their treatment.
6. Digestive Health & Colic
Twisting and folding yoga poses stimulate the digestive tract. Most newborns, regardless of breastfeeding or bottle feeding experience gas and digestive discomfort. There are simple baby yoga moves that you can practice with your little one to help them get some relief. With the digestive support and relaxing effects of yoga, many families report that yoga has significantly helped with a colicy baby.
7. Better Sleep for You & Baby
Last but certainly not least, and perhaps the most important benefit of yoga, is that it helps babies and caregivers sleep better! For babies, yoga promotes more regular sleep intervals. For both babies, and caregivers, the sensation of touch supports circulation which leads to feelings of calm and relaxation. This is directly linked to better sleep.
Not sure where to start? This baby-and-me yoga sequence is perfect for learning the joys and experiencing all the benefits of practicing yoga with your baby!
Also, check out this helpful guide. Good luck with your baby-and-me yoga practice—there are so many benefits for you and baby!
Jen Garcin is a proud mom of a human baby and two kittens. She had an exciting and fulfilling career in criminal justice reform before transitioning to her favorite job ever, being a stay-at-home mom to her daughter & boss, Eloise. She is also a certified yoga instructor. Jen is passionate about all issues related to motherhood, social justice, and dabbles in freelance writing and marketing consulting. She is super active in her local community, and hosts a monthly cookbook club.