Even the youngest children can benefit from the Montessori method. A child's sensitive period for learning order, movement and language start at birth! These are the times they are more receptive to learning a specific skill. Children use their absorbent minds from birth to pick up everything you do—everything for them is a learning experience and every opportunity you offer them is practice.
You can use developmentally appropriate activities to help your child explore the world in a natural way. Here are two Montessori-inspired activities for ages 3-6 months that I LOVE!
Visual play
Lay the child on a mat on the floor. Tie ribbons, a mobile or other visually stimulating items overhead. The hanging items should be no more than 30 cm above the child, since this is about the distance infants are able to see. Allow the child to reach for, or simply watch the movement of these objects. You can also prop these items in front of them during tummy time.
Rotate the items to keep your child interested and change the shapes so they have easier or harder things to grasp and bat at. My favorite is to tie balloons on their ankles and watch them kick at the balloons!
Conversation Time
Although children of this age don't have a recognizable vocabulary, they still want to communicate. Conversation time encourages infants to develop language skills. Hold the child in your arms and speak softly and clearly. Allow the child time to respond and remember to look the child in the eye, just as you would when conversing with an adult. This shows the child that you are paying attention. Repeat their sounds back to them. Mirror their facial expressions. Smile. Your child wants to connect with you. Walk them through your day, take them on a tour of the house, simply watching your mouth move to form sounds is huge learning for them!
Narrate their life for them and tell them what they're looking at. The more words you use, the better!
Keep in Mind: Children develop at different rates and have different preferences. If the child tires of the activity quickly, this may mean the activity is too difficult or too easy for them. It's perfectly okay to end an activity early if the child is not interested. Observe the child, see how they are engaging with the activities, and then adapt accordingly.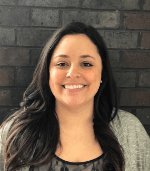 About Sandra Delaney
Sandra has over 15 years of experience in the childcare industry previously working as the center director of multiple KinderCare locations in the Greater Boston area, and as a private nanny. She received a bachelor's degree from Salem State University in elementary education and teaching. Sandra is passionate about children and families, and ensuring their success! In her spare time, you can find Sandra bowling or feeding her Harry Potter obsession.